Transit Announcements
Last updated Feb. 16, 2018 - 7:30 pm
Please check back regularly to see updates, changes and detours to GoRaleigh bus service.
See GoRaleigh Routes for more details on service routes, maps and times.
Sign up for GoRaleigh Bus Alerts at MyRaleigh Subscriptions and get emails/text messages with information including detours and route changes. Sign up for GoRaleigh News and Events for information on Transit Plans, Events, etc.
You can also receive updates by following GoRaleigh on Twitter and Instagram and like us on Facebook!

O/B- Outbound
I/B- Inbound
E/B- Eastbound
W/B- Westbound
GRS- GoRaleigh Station
RCC- Raleigh Convention Center
Detours: Cupid Undies Run | Glenwood Ave. Area | Saturday, Feb. 17 | 12 p.m. - 4 p.m.
Street Closure - The race will start on Glenwood Ave. in front of Solas at 1:00 pm. The runners will proceed down Glenwood Ave., left on North St., left on West St., left on Johnson St., left on Glenwood Ave to start/finish line. Glenwood Ave. will be closed from Jones St. to Peace St.

#6 - Crabtree Valley
O/B – From Hillsborough St., RIGHT on Boylan Ave., RIGHT on Peace St., LEFT on Glenwood Ave., resume route
I/B – From Glenwood Ave., RIGHT on Peace St., LEFT on Boylan Ave., cross over Hillsborough St., LEFT on Morgan St., resume route.

R-Line
From Peace St., LEFT on Boylan Ave., cross over Hillsborough St., RIGHT on Morgan St., resume route.

Missed Stops –

#6 – Crabtree
O/B – 8072, 8074, 8075.
I/B – 8180, 8182, 8183, 8184.

R-Line
9910, 9911, 9912, 8183.
GoRaleigh wants to hear from you about the Wake Transit plan.
WAKE TRANSIT DRAFT WORK PLAN FOR FY19
Help shape your community investment in Wake Transit by reviewing and providing feedback on the Fiscal Year 2019 Draft Work Plan. This plan outlines proposed transit investments from July 1, 2018, to June 30, 2019, as part of the 10-year investment and plan approved by Wake County voters in November 2016.
The FY19 Draft Work Plan Presentation [PDF]
The FY19 Draft Work Plan Audio Presentation [YouTube]

Before the FY2019 Draft Work Plan can go into effect July 1, the public will have the opportunity to comment on it.

From now until March 12, please email comments to info@waketransit.com or mail them to GoTriangle, Attn. Ashley Hooper, PO Box 13787, Research Triangle Park, NC 27709.
You may also attend public meetings with GoRaleigh staff: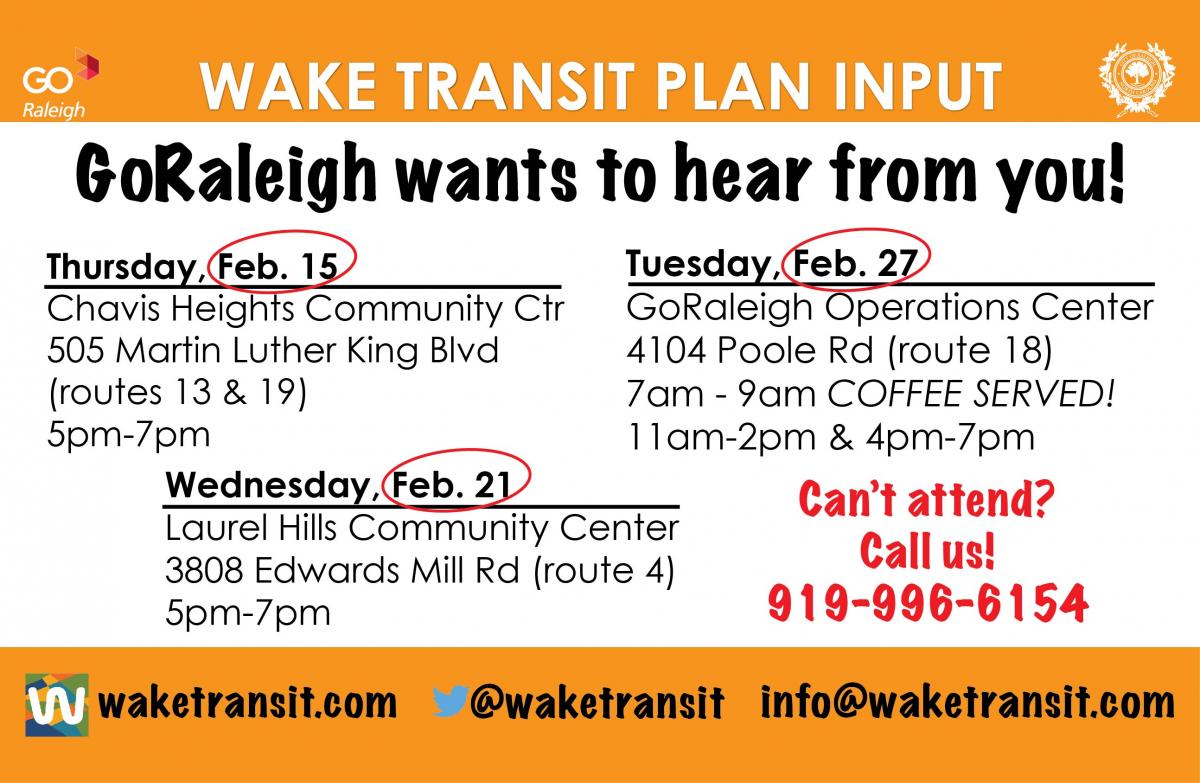 The Transit Planning Advisory Committee will review the comments and then update the FY2019 Draft Work Plan in April.
In May or June, the public again will be invited to weigh in on the plan at hearings before it goes to the Capital Area Metropolitan Planning Organization and GoTriangle boards for approval.
Detours: Hillsborough St. Construction | Until further notice
Construction Closures - Ongoing construction along Hillsborough Street is temporarily closing some of these stops. Some temporary stops will be established to help our customers during this time. These closures are in effect until further notice.

Missed stops:

#4 – Rex Hospital
Outbound (towards Rex Hospital) –
#8240 (Hillsborough St at Brooks Ave)
#8241 (Hillsborough St at Dixie Trail)
Inbound (towards downtown) –
#8274 (Hillsborough St at Brooks Ave)
#12 – Method
Outbound (towards Method Road) –
#8240 (Hillsborough St at Brooks Ave)
#8241 (Hillsborough St at Dixie Trail)
#8584 (Hillsborough St at Shepherd St)
Inbound (towards downtown) –
#8598 (Hillsborough St at Stanhope Ave)
#8888 (Hillsborough St at Rosemary St)
Alternate Stop(s):

#4 – Rex Hospital
Outbound (towards Rex Hospital) –
#8238 (Hillsborough St at Horne St (WB))
#8242 (Dixie Trail at Clark Ave)
Inbound (towards downtown) –
#8272 (Dixie Trail at Clark Ave)
#8276 (Hillsborough St at Horne St (EB))
#12 – Method
Outbound (towards Method Road) –
#8238 (Hillsborough St at Horne St (WB))
#8585 (Hillsborough St at Furches St)
Inbound (towards downtown) –
#8597 (Hillsborough St at Turner St)
#8890 (Brooks Ave at Hillsborough St (NB))
GoRaleigh Service Information During Adverse Weather
Friday, Jan. 19
GoRaleigh's regular bus service is to begin at 8:00 a.m. with detours as needed.

Bus stop safety tips:
- Dress warm.
- If your street isn't busy with traffic, walk to a stop on a busy street.
- If your bus stop is in the middle of a hill, walk to the bottom or top where the operator can safely stop.
- Stand back from the curb until the bus comes to a complete stop. Buses can slide in slippery conditions.
- Board as safely as you can.

For the latest detours and service information visit our service alerts page or call 919-485-RIDE (7433).
GoRaleigh Service Changes | Effective August 6, 2017
Service Changes Effective Sunday, August 6

Sunday Service
Sunday Service increases to same levels as Saturday service on all GoRaleigh routes with the following exceptions:


No departures at or after 11 p.m. on Sundays
R-Line hours remain unchanged (1 p.m. - 8 p.m.)

Route 7
Route 7 South Saunders: Monday-Friday will receive additional trips mid-day and operate every 15 minutes.

Route 31
Route 31 New Hope Commons is removed from service on Sunday. It is replaced with Sunday service on Route 3 Glascock, 10 Longview and 15L Trawick.
Detours: Construction on Route 10 Longview | Booker Rd | Aug. 1 until further notice
Closure – Booker Road from Hill St. to Milburnie Road will be closed for demolition work on Washington Terrace, beginning Tuesday, Aug. 1, 2017 until further notice.

#10 – Longview
O/B – From Hill St., continue to Milburnie Road, resume regular route. We will make 2 courtesy stops, one on Hill St. at Booker St., the other on Milburnie Road at Booker St.
I/B – Resume Normal Regular Inbound routing on Oakwood Ave., construction completed.

Missed Stops –

# 10 Longview
O/B – 8500, 8501, 8502.
I/B – NONE.
Courtesy stops at Hill & Booker and Milburnie & Booker.
NCDOT 40/440 Rebuild Project "Fortify" Information
FORTIFY is not just about rebuilding a road, it's also about fortifying a community. Enhancing the mobility of our region creates greater opportunities for our citizens – access to jobs, healthcare, education, and the people and places that make our community great. Strong partnerships and community collaboration will help reduce the impact to those who live in, work in, and pass through the capital city during construction.
Our project to fortify two of the Triangle's busiest roads begins this week, and we want to make sure you know what to expect while construction is under way on this major roadway rebuild project and understand how to get the latest information quickly and easily.
What is Fortify?
The Fortify project involves removing and replacing an 11.5-mile stretch of I-40 and I-440 to address immediate safety concerns. The 30-year-old pavement is cracking and crumbling because of a chemical reaction, called ASR, happening in the road. The reaction is triggered by water mixing with a substance that was used in paving several decades ago.
In addition to rebuilding the road, crews will extend two miles of auxiliary lanes to help manage additional traffic. They will also rehabilitate 14 bridges within the project zone to extend their life by many years.
The entire project is scheduled to wrap in late 2017.
Impact to Drivers
More than 100,000 cars travel on the weakened sections of 40 and 440 every day, so the $130 million project is going to impact drivers significantly.
NCDOT is taking steps to minimize that impact, including making a $12 million investment in additional transit, and working with the contractor to keep three lanes open in both directions on I-40 during the majority of construction.
Tools to Keep You Informed
• www.fortifync.com – The Fortify website, which was built by NCDOT's Web Services Team, is your one-stop shop for all project-related information. It features maps, details on where to catch alternate transit options and links to live traffic cameras through a partnership with WRAL News. There is even a top 40 playlist of jams to help you through the traffic.
• Facebook – Fortify Facebook page with updates on traffic flow and projected progress, photos and videos, and engagement in conversation with followers.
• Twitter – The project Twitter feed, @FortifyNC, will offer real-time travel information any time of day or night. They're in the process of linking the Twitter feed with TIMS, so whenever an incident occurs within the project area, you'll get an instant alert on your computer or mobile device. It's a great way to "know before you go!"
NCDOT is committed to keeping drivers informed every step of the way throughout this massive project to fortify not just a road but the community, as well. For more information on Fortify, visit www.fortifync.com.